From the Meiji Era, a pioneering age, to the Heisei Era
This chronological table introduces the history of Farm Tomita through photos, from 1903 (Meiji 36), when Tokuma Tomita started plowing the wilderness of Nakafurano. He is the grandfather of Tadao Tomita, who launched lavender cultivation. The production of lavender for fragrances has declined from its peak, due to the growing importation of cheaper fragrances. After harsh days and years, photographers and travelers began to visit the farm, and the Tomitas launched what would become the lavender agronomy of today.
| | |
| --- | --- |
| 1903 | Tokuma Tomita, the first generation of the Tomita line, comes from Fukui Prefecture and puts the first plow into the ground at the same site that the Farm Tomita is located now, where the beautiful Tokachi Mountain Range can be viewed. |
| | |
| --- | --- |
| 1958 | The cultivation of lavender for essence use starts. |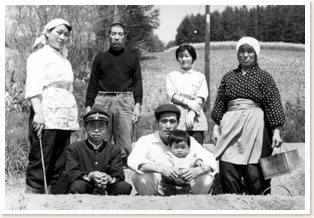 | | |
| --- | --- |
| 1970 | The total planting area of lavender reaches its largest at 230 ha. (the total area continues to decrease thereafter). |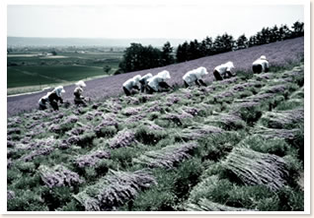 1976
The lavender fields of Farm Tomita are introduced on the calendar of JR throughout Japan. Tourists begin to visit the farm one after another.

This wonderful scenery is chosen for inclusion in the calendar, and it brings luck to the farm.

1980
The farm launches the production of original lavender essential oil.
Fresh lavenders are put into a distillery of Tadao's own design.
About 50 cc of oil is extracted per distillation.
1984
"Furano," the first original perfume is produced.
1987
The production of original bathroom soaps launched for the first time.
1990
Farm Tomita's essential oil wins the first prize at the "Lavender Perfume Fair" in France.

1993
Hanabito House opens.
1998
Tomita Lavender Museum opens.
2000
The greenhouse opens.
2003
Dried Flower House opens.
2008
Lavender East opens.
2013
Gallery Fleur opens.